photo caption
Wingate in a new set of cloths after crossing to safety over the Chindwin. Publicly in May, Wingate pronounced himself satisfied with the mission. Privately, he did not consider the raid a total success, and wondered if being relieved of his command was in store for himself.
Photograph courtesy of
the Imperial War
Museum, London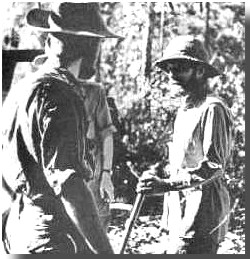 Initially the Allied command reaction to the campaign was not very positive due to the lack of strategic impact and the casualties. The Mandalay-Myitkyina railway line was out of action for only around four weeks, large Japanese forces had been tied up for only a short while, and only a few hundred Japanese had been killed. Casualties were heavy and the medical state of the survivors was appalling. Many senior officers echoed the belief that since there was lack of a noticeable long-term impact or coordination with a major offense the mission, "was like an engine without a train."1 The newly appointed British field army commander, General Slim said, "As a military operation the raid had been an expensive failure. It gave little tangible return for losses it had suffered and the resources it had absorbed...If anything was learned of air supply or jungle fighting it was a costly schooling."2 Fergusson himself was rather dismissive at first, "What did we accomplish? Not much that was tangible. What there was became distorted in the glare of publicity soon after our return...we proved that it was feasible to maintain a force by supply drop alone."3
Yet it was that last point of achievement that demonstrated the mission was a success and was to be an important part of Wingate's future. Longcloth vindicated Wingate's idea of a properly trained and led force acting offensively behind Japanese lines attacking their weaknesses. The operation demonstrated the ability to support ground troops with aerial re-supply and ground support directly by radio across large distances in difficult country successfully. The enemy had been unable to successfully prevent the force's infiltration or exfiltration. It showed the Allies could fight and could beat the Japanese, and they could beat them at those things they were thought best at such as endurance, swift movement, and with new jungle tactics. As Wingate stated in his after-action report, "To sum up, when Long Range Penetration is used again, it must be on the greatest scale possible and must play up an essential role in the reconquest. It is the one method in which we are superior to the Japanese. The possibilities have been demonstrated. Do not let us throw away the harvest by Lilliputian thinking or piecemeal squandering of resources."4 Wingate also praised the average soldier taking part, adding to the sense of optimism. In an interview he also said, "If ordinary family men from Liverpool and Manchester can be trained for this specialized jungle war behind the enemy's lines, then any fit man in the British Army can be trained to do the same, and we show ourselves to the world as fighting men second to none, which I believe we are."5
And for these psychological reasons even Slim would admit Wingate's raid was worth it. Wingate's accomplishment invigorated British and Indian morale in the Far East. The raid was perceived as a successful effort at taking the war to the Japanese in a theater where the Allies were lacking success. It contrasted with the failed Arakan offense in the south which had just finished, and rejuvenated an army and public. The raid, "had panache, it had glamour, it had cheek, it had everything the successive Arakan failures lacked. It was the perfect psychological medicine for an army sadly devoid of confidence in its methods, its purpose and its ability to fulfill them."9 The propaganda achievement was enormous and the press and government made much out of the mission. Accompanied by photographs of gaunt, bearded men wearing Australian slouch hats, newspapers stories began to glamorize their efforts, referring to the force as, "Wingate's Circus" or the, "Ghost Army." The bearded Wingate with his sun helmet and casual dress was written of as the "Clive of Burma," and that a relative of Lawrence of Arabia had led a guerilla army behind enemy lines and run circles around the Japanese. Soon the force was popularly recognized even within its ranks as the "Chindits." Commented one officer back in England, "I was at the School of Artillery and therefore in an excellent position to observe its impact on a cross-section of the Army, especially its majors, captains and subalterns. Given the chance, nine out of ten of them would have volunteered to join Orde immediately...But apart from the impact on the Army, the impact on civilian morale was even more noticeable. Wingate's name was on everyone's lips; it was a symbol of hope."10
photo caption
Wingate upon his return. A second bar to his Distinguished Service Order was the formal award Wingate received. Commenting later on the raw human material he was given which might not have been of the best he remarked, "God often gives man peculiar instruments with which to pursue his will. David was armed only with a sling."12
Photograph courtesy of
the Imperial War
Museum, London
Portents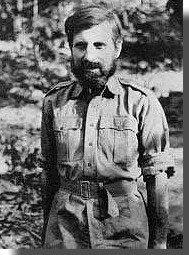 Via Leo Amery, an uncensored copy of Wingate's after-action report reached the Prime Minister of Britain in July, arguably the final arbitrator of success. After defeats and disappointments at the lack of action and arguments in discussions with the Americans on strategy, Churchill was impressed and elated to find someone with daring and vision. In July he wrote, "I consider Wingate should command the army against Burma. He is a man of genius and audacity, and has rightly been discerned by all eyes as a figure quite above the ordinary level...There is no doubt that in the welter of inefficiency and lassitude which has characterized our operations on the Indian front, this man, his force and his achievements, stand out, and no mere question of seniority must obstruct the advance of real personalities to their proper stations in war."11 The Prime Minister's proposal to promote Wingate up four ranks and over the heads of others met with shock, then resistance from senior army officers. While agreeing not to implement this, Churchill summoned now Brigadier-General Wingate back to Britain in July to talk with him about the future of the war.
1. Wilfred Burchett, Wingate's Phantom Army (London: Frederick Muller, 1946), 239.
2. Field Marshall William Slim, Defeat Into Victory (London: Cassell, 1956), 162-3.
3. Bernard Fergusson, Beyond The Chindwin (London: Collins Publishing, 1945), 241.
4. Trevor Royle, Orde Wingate Irregular Soldier (London: Weidenfeld & Nicolson, 1995), 255.
5. Burchett, 238.
6. Christopher Sykes, Orde Wingate (New York: World Publishing Company, 1959), 436.
7. Louis Allen, Burma, The Longest War (New York: St. Martin's Press, 1984), 114.
8. Allen, 112.
9. Ibid, 118.
10. Derek Tulloch, Wingate In War And Peace (London: History Book Club, 1972), 57.
11. Winston Churchill, The Second World War, Vol.V: Closing The Ring (Boston: Houghton Mifflin, 1951), 567.
12. Michael Calvert, Prisoner of Hope (London: Jonathan Cape, 1952), 83.